Submitted by
B-Khush
on Tue, 02/18/2014 - 18:14
Posted in
Winning Smiles - Part 2
Pritha Lal, grabbed the special prize for the "Most Innovative Entry" in the B'Khush Recipe Contest 2014. Pritha sports her prize in the picture, a beautiful and funky neck piece, sponsored by Mitan Ghosh Designs.
Something about Pritha : "Pritha has been a practitioner in the field of Human Resources and Organizational Development for well over a decade. She has been based in the US but has worked with several countries in the Far East on Leadership, Change Management, Strategy and other Team Development initiatives. She decided to give it all up and get a real job in motherhood and become a Stay at Home Mom for the last 2 years. During such time she has unlearned and re-learned a lot of her OD and corporate lessons through the eyes of her toddler Parijat and self published her first book - Blissful Discontent, available as an Amazon Kindle eBook. She lives in Utah and enjoys living each moment life brings her way and could be labeled the 'compulsively content Facebooker' and of course the 'narcissistic Selfie Queen'! She enjoys cooking only when she doesn't have to and keeps in touch with her past life through her "Let's work it" column on B'Khush."
Pritha's entry : "Paneer- Tapas Style"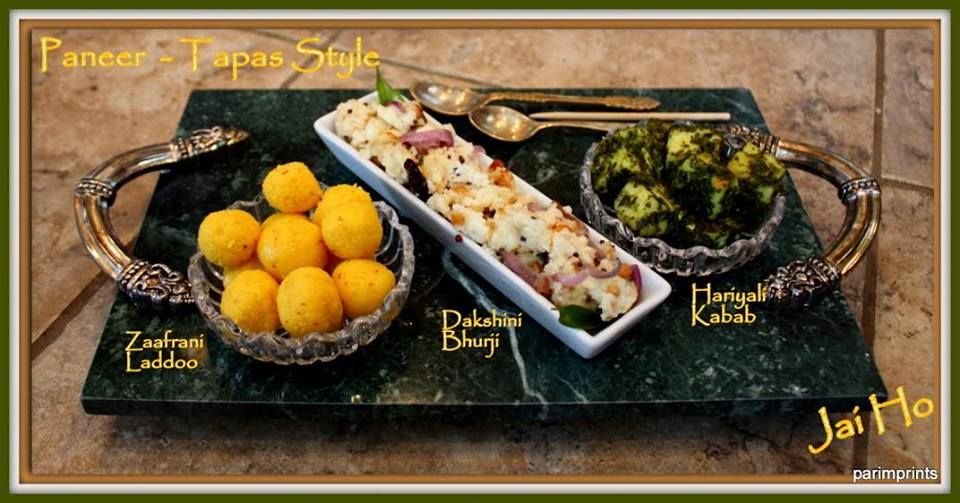 Pritha's beautiful prize is sponsored by Mitan Ghosh Designs. Mitan has very beautifully infused her creations with the exciting blends of her traditional Indian roots and the modernism of the West.
Come take a peek into Mitan's world of glitz n glamour...
Check Mitan's collection at : https://www.facebook.com/DesignerMitanGhosh